Tame elephants face extinction
DAK LAK — Central Highland Dak Lak Province's famed tame elephants may become extinct in the next 20-25 years unless conservation project receive Goverment funding, experts said.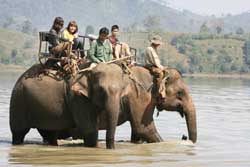 Tame elephants are used to give rides in Lak District, Central Highland Province of Dak Lak. The province wants funding to conserve the elephants which face high mortality and low fertility. — VNA/VNS Phuong Hoa
The population of existing tame elephants is being overexploited for tourism and is under threat from poachers. Elephants are also not being encouraged to breed, according to a study on tamed elephants in the province by Central Highlands University, which showed that the number of tamed elephants in the province had declined sharply from 502 in 1985 to 84 in 2000 and fewer than 60 last year.
Of those, three elephants were under 15 years of ages, 43 are aged between 15-45 while 14 are over 45. The life expectancy of an elephant is 50-70 years.
Moreover, over the last 30 years, just seven out of 37 female elephants have given birth.
Meanwhile, the province's VND61 billion (US$ 3.1 million) project to conserve its elephants that was approved last November, has yet to receive funding from from the Ministry of Agriculture and Rural Development to kick off, said Tran Hieu, vice chairman of the provincial People's Committee.
Under the four-year project, due to start this year, a healthcare, research facility on elephant reproduction and conservation are to be established.
Nguyen Thi Ly, from the Central Highlands University, said elephant owners were overexploiting their animals and paying little attention to their welfare.
"The use of tamed elephants for the tourism is out of authority's control. People do not considere elephants to be culturally significant any more. They are simply a mean to boost earnings from tourism," Ly said.
On average, each tamed elephant serves 5-7 groups of tourists daily.
Y Thiem Bya, a resident in Krong Ana Commune, Buon Don District said his elephant died in 2001 from exhaustion.
"The elephant was exhausted after carrying timber at night and tourists during day," he said.
Bao Huy, the university's associate professor, said half of the province's 60 tamed elephants were raised by local residents, with the rest belonging to tourist companies.
He said just two of 31 experienced mahouts and tamers owned elephants due to the cost involved.
Adding to the population decline, male and female elephants are permitted to spend little time together, he said.
Female elephants become fertile at 11 years of age and are capable of giving birth into their fifties. They can give birth to calf every five years. Older and larger males dominate the breeding, winning the acceptance of females in heat. After a 22 month pregnancy, the female gives birth to a single calf which weighs more than 200 pounds and nurses for as long as four years.
Owners of male elephants do not benefit directly from allowing their animals to breed, and also have to pay compensation if their elephants injure the females during mating.
Meanwhile, poachers hunt elephants for tusks, skin and tail hairs.
In the middle last year, Dak Lak Province Police arrested four poachers for cutting elephant tail and stealing tail hairs.
Early last month, an elephant owned by Buon Don-based Thanh Ha Tourism Ltd Co died after being attacked and burn two months before.
Ea Sup District's Ia R've Commune People's Committee Chairman Le Thanh Hai, reported that within last month, local residents found the bodies of three elephants.
Meanwhile, in middle of last month, seven wild elephants went on rampage in Ia To Mot Commune, Ea Sup District, destroying local garden.
From VietNamNews