Vietnam sees need for more staff in health care
Heath experts from Vietnam, Thailand and Bangladesh discussed measures to improve human resource development in the heath care sector at an international conference in Hanoi on April 28.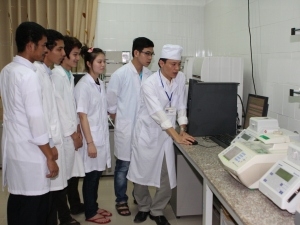 Students at Thai Binh Medical University (Source: VNA)
The event was organised by Hanoi School of Public Health and the Health Ministry.
With an aim of increasing equality in the health care services in Asian countries by renewing personnel training, speeches delivered at the conference focused on analysing national plans on human resource development and orientations for the renovation. The participants also took the occasion to share their countries' experience in this field.
Vietnam now has 26 medical and pharmaceutical training establishments, which have trained 43,292 doctors and over 77,000 nurses and orderlies.
In an effort to deal with human resource shortages in localities, the Health Ministry will carry out an array of measures such as dispatching in shifts more health workers to localities, revamping policies benefiting health workers in remote areas and increasing investment in infrastructure.
From VietNamPlus