Measures taken to ensure food safety
HA NOI — Foodstuffs sold at markets are a serious concern in terms of food hygiene, said Deputy Health Minister Trinh Quan Huan at a recent conference on food safety.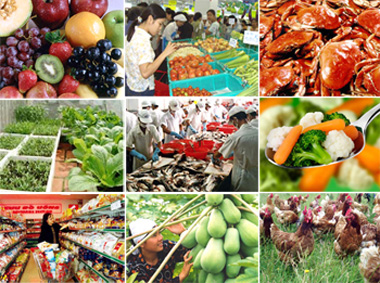 A survey into six wards in central Thanh Hoa City this year revealed that 33 per cent of food sold on the street was contaminated with bacteria. As many as 33.3 per cent of meat and meat products were found to be contaminated with bacteria; with 23.3 per cent infected with E.coli.
Another survey conducted in Minh Khai handicraft village in Hoai Duc District in Ha Noi this year by the Food Technology Centre, revealed that 15 per cent of food processing enterprises were too closely located to pigsties. Food was left to dry outside, and half of the households used sodium hydrogen sulphate which could cause gastritis.
The Institute for Biotechnology and Food under the Ha Noi University of Science and Technology carried out a survey of three fermented pork roll producing enterprises. The food manufacturers were contaminated with S.aureur and E.coli bacteria which are a cause of diarrhoea.
Director of the Ministry of Health's Food Safety and Hygiene Department Nguyen Cong Khan said that a number of measures had been implemented to ensure food safety and hygiene.
"The department is going to issue new food safety and hygiene regulations, which would meet international standards," he said.
Khan added that the Health Ministry would co-ordinate with the Ministry of Finance, Ministry of Agriculture and Rural Development and relevant bodies to provide financial support or let food processing enterprises borrow capital to renovate their processing technologies.
"As of this year, food safety and hygiene work reports will be submitted to People's Councils for discussion," said Khan.
The department will also organise communication campaigns across the country, and ensure the participation of ethnic minorities.
"Food safety and hygiene problems aren't just confined to cities, it's also a worrying issue in remote areas," he said.
The campaign will use documentary films, reports, games, leaflets and posters published in a range of languages to spread the information among the country's ethnic minorities.
Food processing enterprises will receive advice on how to apply modern food safety and hygiene methods, such as ISO (International Standards Organisation) 22000, GMP (Good Manufacturing Practices) and GHP (Good Hygiene Practices).
The department intends to establish more food safety test offices which conform to ISO 7025 standard.
Since 1995, the country has opened more than 360 international standard offices.
"We need at least 10 more, but we lack funds to set up such offices," said Khan. The remaining offices would require VND100 billion (US$5 million) in spending to be established.
"The department will ask the National Assembly to earmark annual funding for food safety and hygiene," he said.
From VietNamNews