VN seeks UNESCO help in heritage preservation
Vietnam wants UNESCO to provide continued support to preserve and promote values of natural and cultural heritages recognised by UNESCO in Vietnam.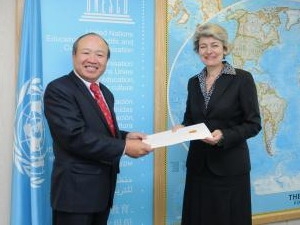 Ambassador Duong Van Quang presents credentials to UNESCO Director General (Photo: VNA)
Vietnamese Ambassador Duong Van Quang, Head of Vietnam's Mission to UNESCO, made the request at his presentation of credentials to Irina Bokova, Director General of UNESCO.
The diplomat said that Vietnam also seeks UNESCO's assistance in preparing and submitting new dossiers.
Quang underlined UNESCO's role in the context where nations are trying to link culture with sustainable development.
He spoke highly of the cooperation agreement signed between UNESCO and Vietnam during Hanoi's 1,000 th founding anniversary, saying it marks a new development in Vietnam-UNESCO relations.
Bokova said that UNESCO and Vietnam share the same approach to culture, education and science, which she believes will further promote bilateral cooperation.
At a separate meeting with Abdou Diouf, Secretary General of the International Organisation of Francophone (OIF), Quang reiterated Vietnam's consistent external policy to the French-speaking community.
Diouf confirmed his support for a project to develop the French language in Southeast Asia and expressed his pleasure at the news that the French television channel TV5 Monde has been subtitled in Vietnamese for cable, satellite and digital TV services in Vietnam./.
From VietNamPlus