State President launches tree planting festival
State President Nguyễn Minh Triết on February 10 launched the Tree Planting Festival after Tết holidays in commemoration of the great 'Uncle Hồ' on the event.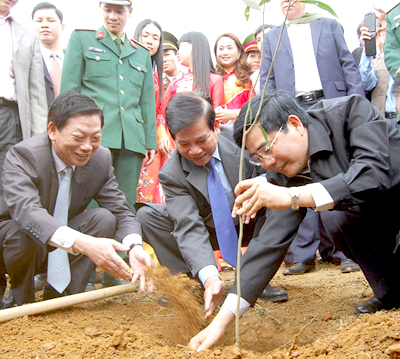 State President Nguyễn Minh Triết (2rd from R) and other delegates plant trees in the 2011 Tree Planting Festival, Hà Nội, February 10, 2011
Addressing the launching ceremony, State President Triết called upon relevant ministries, agencies and sectors to raise people's awareness of climate change, environment pollution, and strictly punish those violating regulations on environment protection.
The Head of State also called upon the entire Party, people and army to positively take part in planting trees and forest in an effort to protect the environment.
The event was jointly hosted by the Ministry of Agriculture and Rural Development, the Ministry of Natural Resources and Environment, the Ministry of Culture, Sports and Tourism, the Municipal People's Committee of Hà Nội, and Hồ Chí Minh Communist Youth Union.
Tree planting festival has become a national tradition over a half century since Uncle Hồ launched the first in 1950 to call on people from all walks of life nationwide to plant trees and forest. The event is significantly importance as environment is considered of three pillars for sustainable growth.
In 2011, Việt Nam sets targets to planting 500,000 hectares of forest and protecting 2.26 million hectares of preventive and special-used forests.
(By Kim Anh)
From Chinhphu