Poland gives $25,000 to restore Hue Temple of Literature gate
THUA THIEN-HUE — The Foreign Ministry of Poland has agreed to fund more than US$25,000 for the restoration of the front gate of the Temple of Literature in Hue, the former imperial city, in the central province of Thua Thien-Hue.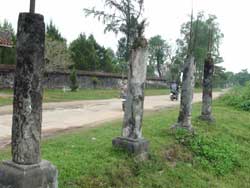 Pillar of the community: The four pillars, which form part of the Linh Tinh Gate in front of the Temple of Literature in Hue city are to be restored in June with funding from the Polish Foreign Ministry.
The Hue Centre for Relics Conservation said funding would be implemented through the Embassy of Poland in Viet Nam.
The project to preserve the Linh Tinh Gate has been approved by the provincial government.
The project, expected to kick off in June for completion in early 2012, will involve restoring four downgraded decorative columns made of mortar, at a total cost of VND1.6 billion (US$80,000).
Linh Tinh Gate, built in the early Nguyen dynasty (1802-1945), serves as the front gate of the Temple of Literature in Hue city, a landmark closely linked to the boat marina on the bank of the Perfume River.
The structure comprising four mortar pillars with the upper sections decorated with enamel has deteriorated during the war and the post-war period. Currently, only four stone bases of the columns remain intact.
From VietNamNews