Imbalances create worker shortages
Vietnam has a huge shortage of human resources to cope with pressing urbanisation and climate change issues, a national conference was told on Dec. 6.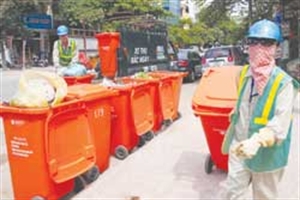 The conference, telecast live in Hanoi , Da Nang and HCM City , agreed that the natural resources and environment sector needed to recruit another 800-1000 people each year.
The current figure, as provided by the Ministry of Natural Resources and Environment, is about 45,600 workers, including those working at State corporations, industrial parks and localities.
The report says there is an imbalance in human resource structure among different sub-sectors. For example, those involved in land management account for 55 percent of the total number while those involved with water resources and hydro-meteorology stay at a low 1 percent.
Under State management, the sector is a newly merged group of seven sub-sectors—land, water resources, geology, environment, hydro-meteorology and climate change, mapping and maritime.
The ministry says these sub-sectors mostly deal with complex and sensitive issues related directly to the rights of people and enterprises.
"While human resources are needed to accomplish the sector's strategies, they are not sufficient to ensure their quality in the future," said the Minister of Natural Resources and Environment Pham Khoi Nguyen at the conference.
"There are many shortcomings in training and using the sector's human resources," he added.
According to the ministry's report, most training institutions focus on technology and techniques rather than management's understanding of specific sectors.
Some topics have not been added into training programmes resulting in staff shortages at central and local levels. In addition, there are few cadres trained in advanced science and technology.
The reports also find that co-operation on education and training with other countries remains spontaneous - the country does not yet have an effective way of attracting more young applicants to natural resources and environment courses.
Speaking at the conference, UNDP Country Director Setsuko Yamazaki suggested Vietnam turn the climate change challenges into an opportunity by opting for "green growth" and investing in human resources.
"In order to achieve green growth, the country requires a cross-sectoral and cross-ministerial approach to the human resource development plan," she said.
The 800 or so viewers at the telecast, including representatives of international organisations and central bodies, agreed with five measures for human resource development and training.
They include focusing on training under a modern approach and international integration. There would be policies to encourage students to learn about hydro-meteorology, mapping and mineral geology.
More investment will be poured into developing natural resources and environment training institutions to have more laboratories and libraries. The country hopes to build at least three universities with international standard, specialised facilities by 2020.
The conference's discussions were expected to help the ministry finalise the draft strategy on human resources development and training from now to 2020.
From VietNamPlus