Carrying on an epic tradition
DAC NONG — Dieu Thi Mai, 41, has collected, translated, recited and taught epics to people in Tay Nguyen (Central Highlands) for 26 years.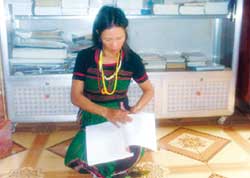 Tall tale:
Dieu Thi Mai practises epics at her home.
"I have visited maybe thousands of villages, but I haven't been anywhere that had better epic singers than Dac Lac and Dac Nong," said Mai. "I'm so sad because they are getting older and older, and passing away."
Mai was named the best epic singer in the Central Highlands at the age of 18. "At that time, many people couldn't understand why she followed her father to recite epics while she was so young," said head of the Dac N'Rung Women's Association. "At some village festivals, she recited so passionately that everyone was moved to tears."
Mai's father, Dieu Kau, had spent 50 years collecting and preserving more than 54 set of epics. Six of them have been printed and released, including Chuyen Co Xua (The M'Nong Tales).
In addition, Kau was the first person in Dac Nong to translate Ot Ndrong (the M'Nong epics) into Vietnamese. He also had opened several classes to teach epics to M'Nong youth in Dac Nong, said Mai.
The "epic gene", Mai said, was inherited from her father who compiled many sets of epics, including more than 54 epic cycles of the M'Noâng ethnic people, the largest collection in the Central Highlands.
Besides maintaining 12,000 pages of epics inherited from her father, Mai has a substantial collection that she has compiled herself, including three completed sets of epic books and more than 16,000 folk songs adapted from epic stories.
M'Nong youth can no longer recite the Ot Ndrong, Mai said, but she believes that an Ot Ndrong class would attract a large number of M'Nong young people to attend.
"I hope that the State will care about this problem and establish a school for teaching epics and create favourable conditions for me to record an old artist in Dac Nong reciting the Ot Ndrong," she said.
From VietNamNews