Biennial drama festival kicks off
BINH DINH — The National Tuong (classic drama) Festival 2011 kicks off today in the city of Quy Nhon and runs until April 30.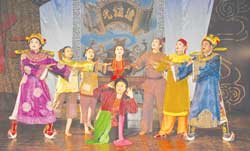 Drama queens: A scene of That Hien Quyen, one of two plays brought to the festival by the Viet Nam Tuong Theatre.
Nine old tuong plays, with topics ranging from history to modern folk, will be performed by seven top tuong companies, including the Viet Nam Tuong Theatre, the Hue Royal Tuong Troupe and the Dao Tan Tuong Troupe.
To encourage talented youths, only artists under the age of 40 are allowed to take part in the festival this year.
"The regulation is set to give young artists an opportunity to perform on the stage, as well as to ensure that youths have enough opportunities to take main roles," said Vuong Duy Bien, director of the Art Performances Department under the Ministry of Culture, Sports and Tourism.
Viet Nam Tuong Theatre director Hoang Khiem expressed his approval of this regulation: "The board limits the participating age so that the theatres give main roles for young generation. Even young artists have to strive for promotion in their careers. At the moment, there are many talented youths in the theatre, such as actresses Loc Huyen and Phuong Thanh and actors Dinh Long and Duc Manh."
The jury will grade the artists based on their performances, not based on the quality of the plays.
Two plays that the Viet Nam Tuong Theatre will bring to the festival are Son Hau and That Hien Quyen. Son Hau is about fighting for power in an acient Chinese royal court. That Hien Quyen focuses on describing social ethics through stories shared among members in a family.
Actress Nguyen Kieu Oanh, who won the silver medal in the 2008 National Tuong Festival for her role in Trieu Dinh Long Saves The King, plays a daughter-in-law Hoang Thi in That Hien Quyen.
"Before the festival, we performed this play in the northern provinces of Thanh Hoa, Phu Tho and Bac Ninh, and received constant applause from the audiences. I will try my best to get the best results," she said.
The festival, organised by the culture ministry's Arts Performances Department, takes place every two years.
From VietNamNews