VN Business Summit opens in HN
The Việt Nam Business Summit, which aims to introduce the country's vibrant business environment, opened on Tuesday in Hà Nội on the sidelines of the on-going 44th ADB annual meeting.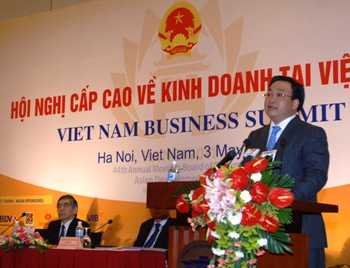 Deputy PM Hoàng Trung Hải delivers a speech at the Việt Nam Business Summit, Hà Nội, May 3, 2011 - Photo: VGP
Speaking at the event, Deputy PM Hoàng Trung Hải said that Việt Nam completed the socio-economic development strategy for 2001-2010 with significant achievements recorded.
Over the past decade, Việt Nam's economy expands at an average rate of 7.26% a year, economic size is 3.3 times bigger than that of 2000. The country has fulfilled almost all the UN-backed millennium development goals, particularly in poverty reduction.
The international community saw Vietnam's high development potentials, for both medium and long-term issues, and this is demonstrated in the record high of committed official development assistance (ODA) for Việt Nam in 2010, with US $8 billion.
Việt Nam, however, still faces with challenges and shortcomings in terms of growth quality, productivity, macro-balances, quality of workforce, infrastructure. They are the barriers for the country's development, stressed Deputy PM Hải.
Moreover, the challenges of narrowing development gap, overcoming middle-income trap, especially in the context of post global financial crisis, are not easy to solve.
Therefore, the Government considers macro-economic stability, fast and sustainable economic growth are among the first priorities for the country in the next ten year development strategy, said the Deputy PM.
It is estimated that Việt Nam needs about US $300 billion for investment development within 2010-2015. Therefore, the innovation in business environment, growth model transforming, synchronous development of labor, science-technology markets toward liberation of trade and investment will be prioritized.
The Deputy PM also re-affirmed the Vietnamese Government's consistent policy to pursue economic reform, active integration, stable trade and investment ties with foreign partners.
He said that Việt Nam is on way to transform the economic structure and improve the quality of the workforce but it needs time. Though the country is still dependent on agriculture but the ratio of labor in this area is decreasing while that in the industrial sector is increasing.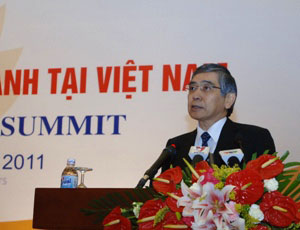 ADB President Haruhiko Koruda at the Việt Nam Business Summit, Hà Nội, May 3, 2011 - Photo: VGP
ADB hails partnership with VN
ADB President Haruhiko Kuroda said that over the past 25 years of innovation, Việt Nam has made important achievements, particularly the sharp reduction of poverty rate from 58% to just 10%.
He believed that Việt Nam has vast development potentials thanks to its young and big population, tradition of optimism, and diligence.
The President suggested that the Vietnamese Government should continue to support the private sector as it contributes roughly 47% to the national total GDP. He also expressed ADB's strong will to closely coordinate with Việt Nam in the future.
(By Hải Minh)
From Chinhphu