Too many wells give HCM City sinking feeling
HCM CITY — HCMC is considering plans to improve the management of private artesian water bores as overexploitation of underground water sources is causing land to sink in many of the city's districts.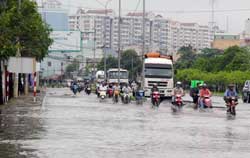 Nguyen Huu Canh Street in Binh Thanh District suffers from heavy flooding due to tidal surges. Bigger tides, along with land sinkages blamed on the falling water table, are expected to cause more severe flooding in the city. —VNA/VNS Photo Hoang Hai.
The land sinkage has been blamed on falling artesian water levels and land that is too unstable for the current rate of development.
"The overexploitation of underground water has been a large cause of land sinkage," Le Van Trung, director of the Geomatics Centre of the National University- HCM City, said.
Land in parts of districts 1, 4, 7, 8, 9, Binh Thanh, Thu Duc, Binh Chanh and Hoc Mon has sunk 10-15mm a year. The sinkage levels are expected to get much worse in District 9, Binh Chanh, Thu Duc, Hoc Mon and Binh Thanh districts by 2020.
Trung told a meeting of the HCM City People's Committee earlier this week that there were three main causes for the problem – unstable land, the construction of projects on unstable land, and the decline of underground water levels.
The combination of higher rainfall levels, bigger tides and land sinkage was a recipe for more severe flooding in future, Trung said.
The flooding of 79 out of the 116 roads had been exascerbated by lowering land levels, he said.
Deputy chairman of the HCM City People's Committee Nguyen Thanh Tai said the management of artesian water sources in the city was too lax and needed tightening.
Tai ordered the Department of Natural Resources and Environment to do an area-by-area assessment of the use of artesian water and organise a seminar on the impacts of water bores on land stability.
The People's Committee would use the data to map out areas where water bores and construction would be restricted.
The city would also increase inspections of artesian water bores and penalise anyone illegally exploiting underground water resources, Tai said.
The department has set a cap of 832,000cu.m a day of pumped bore water. Records show that 582,000cu.m a day was pumped in 2008.
Nguyen Ngoc Hong, deputy director of the department, said the real volume of underground water that was being pumped could be a third as much again.
In several industrial parks which have tap water, many companies illegally exploit underground water for production, especially companies that use a lot of water like leather tanners and textile and dye companies, according to the HCM City Export Processing and Industrial Zones Authority.
From VietNamNews