Lining up to applaud Bac Ninh
Bac Ninh province is enjoying an investment renaissance as many global giants, such as Canon, Foxconn and Samsung, make the province their homes in Vietnam. Kieu Linh reports that the big firms' arrivals are acting as a magnet for other companies to prosper in the province.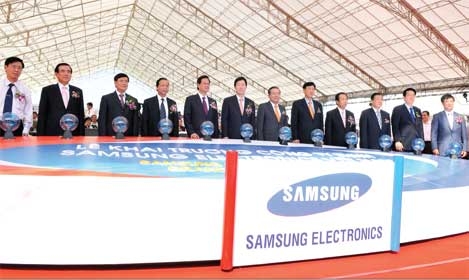 Samsung's confidence in Bac Ninh is resulted in a ripple effect with a wave of new investment in the province.
With a wide range of advantages and incentives, industrial parks in Bac Ninh province, 30 kilometres from Hanoi's centre, have attracted a large number of big domestic and international brand-names.
"The appearance of giants such as Samsung, Canon, Foxconn, Orion, Sumitomo or ABB is a sign of showing Bac Ninh industrial parks' increasing attractiveness to foreign investors all over the world," said Vu Duc Quyet, head of Bac Ninh Industrial Zones Management Authority.
With a view to boosting investment inflows, Bac Ninh has developed a series of integrated industrial parks, interdisciplinary industrial groups and handicraft clusters, Quyet said, adding 15 integrated industrial parks with 7,525 hectares been approved by the prime minister. Of the total, 6,541ha is set aside for industrial parks and 984ha for urban areas.
"All the industrial parks are planned and built in favourable places, next to major routes so they are very convenient for investors. Besides, the planning is associated with urban, service and residential developments with technical and social infrastructure systems, ensuring the sustainable development of the industrial parks," he noted.
Quyet said all investors in Bac Ninh province industrial parks enjoyed high incentives under the central government's stipulation and simple administrative procedures under the one-stop shop policy. Moreover, Bac Ninh Industrial Zones Management Authority, with a young, professional and competent personnel, is always ready to support investors during the entire lifespan of their projects.
Bac Ninh has attracted many big property groups like Vietnam Singapore Industrial Park & Township Development Joint Stock Company (VSIP JSC), Kinh Bac City Development Corporation (KBC), Viglacera Corporation, Song Da Infrastructure Construction Joint Stock Company and Vietnam Urban and Industrial Zone Development Investment Corporation (IDICO), which are providing high-quality infrastructure services and meeting the requirements of big domestic and foreign enterprises in the province.
"The fact that large economic groups from Japan, Taiwan, Singapore and South Korea are mulling over strategies to invest in infrastructure of industrial parks, urban areas and hi-tech parks in Bac Ninh will create a premise to boost investment into the province from world-leading economies. Besides, the strict decentralisation in foreign investment management in Bac Ninh will facilitate foreign direct investment (FDI) inflows into the province," Quyet noted.
Right after its re-establishment, Bac Ninh's of major tasks for socio-economic development is to focus on developing industrial parks and medium and small-sized handicraft village and interdisciplinary industrial clusters. Building and developing industrial parks is therefore among important solutions to accelerate industrialisation and modernisation of the province.
The local industrial parks have been attracting clean industrial projects in the fields of electricity, electronics, telecommunications, engineering, supporting industry, consumer-goods, food processing, high-grade building materials, prioritising hi-tech and source-technology projects with large capital scales, high competitiveness and strong impacts on the province's socio-economic development.
Since late 2000, when the first industrial park of 134ha first-phase Tien Son was set up, Bac Ninh is now home to nine operational industrial parks - Tien Son, Dai Dong-Hoan Son, Que Vo, Yen Phong I, VSIP Bac Ninh, Yen Phong II, Thuan Thanh III, Que Vo II, Nam Son-Hap Linh. Each industrial park has become an important component in drawing in domestic and foreign investment projects, creating favourable conditions to receive advanced technologies, boosting industrial growth rate, accelerating the shift of economic and labour structures and making contributions to Bac Ninh's socio-economic development.
As of late May 2010, enterprises at Bac Ninh industrial parks employed 44,506 people, comprising of 21,906 local workers, accounting for 49.2 per cent of the province's workforce.
By the end of 2009, as many as 15 countries and territories investing in Bac Ninh's industrial parks. Recently, most of the large FDI projects by multinational groups like Canon (Japan), Samsung (South Korea) and ABB (Sweden) have been poured into the fields of electricity, electronics, telecommunications and precise engineering.
As of late March 2010, Bac Ninh industrial parks pulled in an aggregate investment capital of $3.126 billion, including $359 million into engineering sector, $178 million into food processing, $62 million into materials production, $1.612 billion into electronics and telecoms and $915 million into other sectors.
South Korea took the lead among foreign investors in Bac Ninh with 46 projects capitalised at $989.8 million in total, followed by Japan with 36 projects valued at $403.4 million, Taiwan 18 projects ($218.2 million), Singapore 13 projects ($172.1 million), Hong Kong 15 projects ($100.69 million), China 11 projects ($32.59 million), European Union members three projects ($34 million) and other countries 35 projects ($285.27 million).
(By Kieu Linh)
From VirVN