Largest irrigation project launched in Thanh Hoa
The central province of Thanh Hoa launched the Cua Dat irrigation system and hydro electric-power plant on November 27.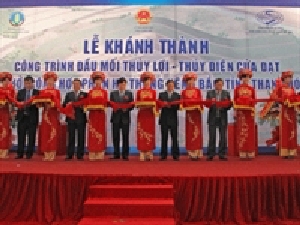 The Cua Dat water reservoir is the largest national irrigation work and hydro electric-power plant on the Chu river, 17km from the Bai Thuong dam.
The Ministry of Agriculture and Rural Development (MARD) is the main investor of the project along with many prestigious contractors including the Vietnam Construction and Import-Export Joint Stock Cooperation (Vinaconex).
The VND7 trillion project consists of two components which will work simultaneously. The Cua Dat water reservoir with a full capacity of 1.5 billion cubic metres will reduce the impact of floods on the lowlands and ensure the water supply for more than 86,000ha of agricultural land as well as meet industrial and consumer demands.
The reservoir also helps prevent salt marshes from forming in the lowlands of Chu River and will generate electric power to add 430 million KWh a year to the national electricity grid.
The Cua Dat project will also bring economic benefits of VND407 billion from irrigation per year, VND430 billion from flood prevention and VND245 billion from generating commercial electricity.
The VND1.6 trillion Cua Dat hydro power plant, constructed by Vinaconex on the form of build-operate model, completed two main generator units and put them into operation in May this year, two months ahead of schedule.
On November 27, the Management Board and Irrigation Construction No.3 under the MARD started a component of the north channel linking the northern part of the Chu River to the southern part of the Ma River to enable efficiency in the Cua Dat project.
The total capital investment for the channel system is VND4 trillion, two-thirds comes from Government bonds and the rest from an Asian Development Bank loan.
From VOVNews