Ha Noi People's Council sets goals
HA NOi — Urban construction and management, transport, water supply, drainage and pollution would have to be tackled in the new year, Ha Noi Party Committee Secretary Pham Quang Nghi told the opening of the municipal People's Council's 22nd session yesterday.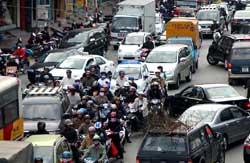 Traffic congestion on Ha Noi's Truong Chinh Street. Transport is one of the major issues the city needs to tackle next year, officials said. — VNA/VNS Photo Bui Tuong.
It would also be necessary to effectively implement the Government's measures to deal with economic decline, curb inflation and stabilise the macro economy, he said.
In addition, the traditional cultural values of Thang Long-Ha Noi would have to be maintained and promoted and the spiritual life of the city's citizens improved.
Secretary Nghi asked that more effective concrete and drastic steps be taken to quicken administrative reform.
The reform of administrative procedures and increasing transparency to create favourable conditions for both commerce and citizens should be the focus, he said.
The councillors discussed the implementation of their resolutions dealing with the city's socio-economy, national defence and security, budget estimates and the results of people's complaints and denouncements.
They also reviewed the organisation and celebrations of the 1,000th anniversary of Thang Long-Ha Noi.
The People's Committee 2010 report shows the city's economy has recovered to GDP growth of 11 per cent and a 20-per-cent rise in export revenue.
Budget revenue was almost VND100 trillion (US$5.1 billion).
The report says social security and welfare were ensured and economic growth averaged 10.7 per cent between 2006-10.
But the report warns of unsustainable economic development; the potential increase in the price of commodities; the high-risk of inflation and traffic congestion and accidents that show no sign of lessening.
Pollution and the violation of food safety and hygiene regulations were rife and administrative reform had failed to meet the target set for it, says the report.
From VietNamNews