Dong Nai draws foreign investors
DONG NAI — Foreign direct investment (FDI) registered in the southern province of Dong Nai was estimated at over US$1.5 billion this year, half of which would be implemented, said the provincial Department of Planning and Investment director, Bo Ngoc Thu.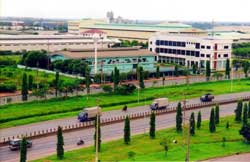 Bien Hoa 2 Industrial Park in the southern province of Dong Nai, which has seen registered foreign investment this year of VND$1.5 billion. — VNA/VNS Photo Van Khanh.
By the year-end, the province would have 980 foreign-invested projects, worth a combined $18.68 billion, she said, adding that the service sector accounted for 5 per cent of the province's total projects, with the majority involved in the support industry and machinery manufacturing.
The number of projects employing large workforces had fallen while hi-tech projects were on the increase, she noted.
Industrial zones (IZs), which contributed the majority of provincial FDI, attracted $950.78 million in the past 11 months, a year-on-year increase of 75 per cent, according to the provincial IZs Management Board.
The figure included $867 million of additional capital for 55 existing projects and $82.9 million for 32 newly-licensed projects.
The recovery of the world economy created ideal conditions for foreign investors to expand in the province, said deputy head of the board Nguyen Phuong Lan.
FDI in Dong Nai had been important to its socio-economic development in the past, said chairman of the provincial People's Committee Vo Van Mot.
We were seeking investors with sufficient capital and advanced technologies to invest here, he said, outlining machinery, electronics, new materials, infrastructure, construction, finance, IT and telecommunications as important areas that needed investment.
The province pledged to speed up administrative reform and perfect its "one-door" policy to better facilitate investors. Frequent dialogue between local authorities and investors would also be included, he concluded.
Located in of the southern region's main economic zones, the province benefits from its proximity to maritime ports and international airports, and from progressive policies. Dong Nai haws so far lured investment from 32 countries and territories.
From VietNamNews