Bitexco dedicates nation's tallest tower
The Binh Minh Import Export Production and Trade Co (Bitexco) on Oct. 31 inaugurated the country's tallest building to date in HCM City , towering 262 metres.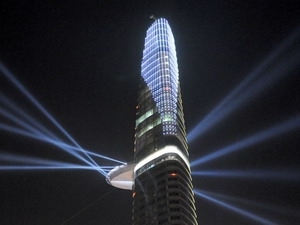 Bitexco chairman Vu Quang Hoi said the 68-storey Bitexco Financial Tower (BFT), bordered by District 1's Ngo Duc Ke, Hai Trieu and Ho Tung Mau streets, offed grade A+ space with facilities for the most demanding tenants.
Advantages of the 270 million USD tower, whose design is said to be inspired by the lotus flower, include a helicopter pad on the 50th floor. The building is also built to withstand earthquakes that measure up to eight on the Richter scale. Around 40 percent of BFT's 37,000sq.m. of office space are under procedures for lease to tenants and contracts are expected to be signed in a month.
The chairman said he hoped up to 90 percent of the space would be leased out over the next 12 months. Architect Carlos Zapata, whose works include the Cooper Square Hotel in New York and the Soldier Field in Chicago , designed the tower, while the US-Korean Hyundai E&C was its main contractor.
Bitexco was set up in 1985 as a textile and garment firm, and it has since developed itself into a group with diverse activities including real estate, hydropower, mining and investment.
From VietNamPlus