Van Ngoc Tu wins first medal for Vietnam at Asian Judo Champs
(VOV) - Van Ngoc Tu won a bronze medal at the 2011 Asian Judo Championships, which is taking place in Abu Dhabi, the United Arabia Emirates (UAE).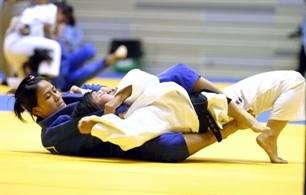 Tu, the defending champion of Southeast Asia, won the first medal for Vietnam after defeating strong rivals, Devi Khumujarn Tombi from India and Alexandra Podryarova from Kazakhstan, in the under 49-kg category on April 5.
He is one of the eight Vietnamese attending the three-day event which has a total of 210 athletes representing 30 countries and territories in Asia to compete in 14 weight categories.
In the most recent event, Vietnam won one silver and one bronze.
From VOVNews