Voting controversy mars talent quest
HA NOI — Ha Noi-based singer Nguyen Thi Minh Chuyen was named best singer at a young talent quest in HCM City on Sunday titled Morning Star-A Rendezvous.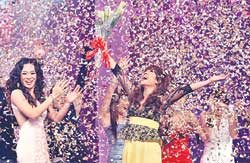 Rising star: Singer Nguyen Thi Minh Chuyen (right) celebrates her victory at the biennial young talent quest Morning Star-A Rendezvous on Sunday in HCM City.
Chuyen, 24, was the first female to win the prize at the contest, the fourth of its kind for those between 18 and 25 years of age.
However, the contest, first held in 2004, was marred by controversy surrounding the voting system.
Many people in the audience and at home said they did not receive confirmation of their votes from contest organisers.
Others said they got a message saying "voting is closed" despite texting their votes well within the time limit.
Several members of the audience have since raised questions about the legitimacy and fairness of public voting systems on television.
In recent years, many music shows, contests and awards such as Morning Star – A Rendezvous, Green Wave and Golden Album, have relied on public votes, via texting, ratings and voting.
This year, the competition, spread over nine consecutive Sundays every two years, attracted 700 hopefuls, many from rural areas.
Chuyen is in her third year at the Military Culture & Arts College. Chuyen, of two women finalists, did not collect many votes from the audience, but the judges loved her perfect voice and dance skills while performing Vietnamese rhythm and blues numbers.
She has already signed a recording contracts with music producers in Ha Noi.
Singer Luong Viet Quang collected the most audience votes - 38,000 out of a possible total of 86,000. Chuyen and Quang will receive VND30,000 (US$1,500) each.
Two other contestants, Dinh Manh Ninh and Ha Hoai Thu, received complementary prizes as the most promising singers.
In the final contest for the night, Le My Nhu was named "Queen of Rock" by the jury for singing Va Ta Da Thay Mat Troi (And I Saw the Sun), a composition by musician Nguyen Cuong.
Her powerful voice, modern singing and performance style made a strong impression on the jury and audience.
Nhu's rival for the crown, 24-year-old Thu, was awarded the prize for young talent.
She received more than 16,000 votes for her appearance and clear voice as she performed Anh (You) and Ngoi Hat Mua Dong (Singing in the Winter), pop songs by Xuan Phuong and Le Tinh.
From VietNamNews