Vietnamese rockers win favour at ASEAN fest
Vietnam 's "Buc Tuong" (The Wall) rock band has won the audience's applause at a rock festival during the ASEAN Youth Cultural Exchange Festival 2011 (AYCEF 2011) in Jakarta , Indonesia .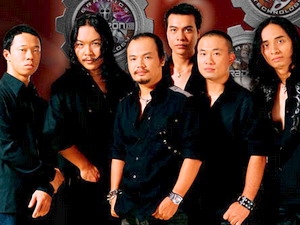 Buc Tuong rock band (Source: Internet)
With their professional and impressive style in the performance on May 1, the five-member band's three songs, especially a song in the style of Vietnamese folk music named "Ra Khoi" (Go out to sea) were praised as an unique combination between the traditional factor and modern rock.
In an interview to ASEAN magazine, Ambassador, Head of the Vietnamese Delegation to ASEAN Vu Dang Dung said that Vietnam's participation in AYCEF 2011 helped strengthen people-to-people exchange and cultural interaction among ASEAN nations, as well as Vietnam 's active contributions to the bloc.
The ASEAN Youth Rock Festival was held under the initiative of the current ASEAN Chair , Indonesia to boost cultural exchanges between young people in regional countries.
From VietNamPlus