Viet Nam-Italy culture programme kicks off
HA NOI — Italian pianist Ludovico Einaudi will perform in Viet Nam for the first time kicking off the Viet Nam-Italy Cultural Programme 2011 on Sunday.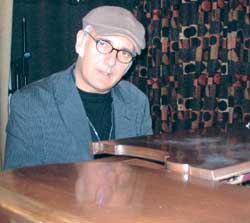 King of the keys: Pianist Ludovico Einaudi will play works from his latest album Nightbook at a solo concert in Ha Noi tomorrow.
Einaudi's concert is one of diverse series of events planned by the Italian Embassy and its partners that intends to tighten relations between Italy and Viet Nam.
"The programme will bring the best of contemporary Italian culture and society to the Vietnamese people," said Italian Ambassador Lorenzo Angeloni.
The pianist will play self-composed pieces by including from his latest album Nightbook released by Decca Records in 2009.
Born in 1955, in Turin, Einaudi was trained as a classical composer and pianist at the Milan Conservatory before continuing his studies with Luciano Berio, one of the twentieth century's leading avant-garde composers.
His career began with a series of prestigious commissions for institutions such as the USA's Tanglewood Festival and Paris' IRCAM.
He has released a string of chart-topping albums with sales of over 750,000 copies, selling out the most prestigious concert halls worldwide. He also has composed film scores winning prizes such as the Italian Music Award for Luce Dei Miei Occhi (2002) and prize for the best film music at Avignon Film Festival 2004 for Sotto Falso Nome.
"Pianist Einaudi is the first world-renowned Italian to perform in Viet Nam. It's the first time he has performed in Asia" said Fabio Schina, head of the Italian Embassy's cultural section to Ha Noi.
"The pianist incorporates other music genres which are more popular than classical music. He uses musical alchemy which combine different music genres," he said.
Other pieces to be performed in the concert include tracks from his albums Divenire (2007); Le Onde; I Giorni; Una Mattina and Eden Roc.
Le Onde marked a turning point in Ludovico Einaudi's career as his first real work as a soloist. It was Einaudi's first solo piano album released in 1996 and enjoyed mainstream success, particularly in Italy and the UK.
The concert will also see the participation of flautist Le Thu Huong, from the Viet Nam National Academy of Music. The two artists will perform together music piece Two Sunsets composed by Einaudi.
The two artists will have a rehearsal after Einaudi arrived in Ha Noi yesterday. "It's an honour for me to perform. I'm confident about playing with the pianist because music has no borders," said Huong.
Einaudi will meet Viet Nam National Academy of Music's students on Monday. After Sunday's concert, Einaudi will perform in Bangkok and Singapore.
This concert is sponsored by the Italian Medexport Pharmaceutical Group. The concert will kick of at 8pm at Ha Noi Opera House.
From VietNamNews