Tung Duong wins Devotional Music prize
(VOV) - Singer Tung Duong was awarded the prize of Devotional Music 2010 at a ceremony in Ho Chi Minh City Opera House on April 5.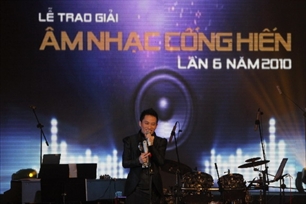 He also held won the two titles "Singer of the Year" and "Album of the Year", for his album "Liti" (Tiny).
Le Cat Trong Ly won the title "Musician of the Year", and singer Mai Khoi the Vietnamese Song prize.
The "most favourite music progamme" title was presented to Vietnam Idol.
From VOVNews