Musician releases English album
HA NOI — US-based Vietnamese musician Nguyen Xinh Xo has just released his first album in English in Viet Nam.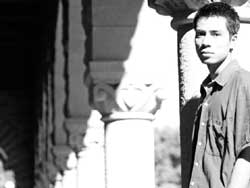 Simple melodies: Musician Nguyen Xinh Xo is also the leading vocalist on his first album Afterlife. — File Photo
Xo, 33, became famous in Viet Nam after composing Dong Ho Treo Tuong (Wall Clock), which won the Song of the Year award at the national Vietnamese Songs music contest in 2009.
Entitled Afterlife, the album includes 50 English pop songs using electronic music, most of which have not been released. Xo is also the leading vocalist on the album, which he produced himself.
"I tell the story by myself with my own feelings through my voice," he said. "[The album] is a gift to my late father."
Xo said he produced the album in his studio at home, which he said is more convenient than outsourcing the work.
Composing in Vietnamese is much harder than composing in English, he said.
"The Vietnamese language contains too many tones, which lead to more fluctuating melodies. That is why English is such a popular language to compose in," he said. "However, it is the musical score itself that is the main message carrier for the songs, not the language."
Xo added that he produced the album not for profit but to promote his music.
Xo was born in Ha Noi in 1978. He began learning the violin at five. His father, Nguyen Xinh, also a musician, was former director of Viet Nam Musicology Institute and deputy rector of the then Viet Nam Academy of Music.
Xinh was killed in a traffic accident when Xo was 18.
Xo's mother also taught the violin and is an accomplished performer, as are many of his family members.
Xo graduated with a bachelor's degree in business management and information technology. Later, in 1999, he went to study in the US, where he now works as a music teacher. He is also taking a master's degree in electronic music.
From VietNamPlus