Music festival to foster regional amity
HCM CITY — A music festival from the Southeast Asian region featuring both folk and pop genres opened in HCM City yesterday.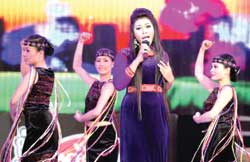 Golden tonsils: H'Zina Bya, winner of the HTV singing contest Singing Star on in 2010, represents Viet Nam at the ASEAN Television Golden Melodies Festival 2011 in HCM City this week. — VNA/VNS Photo Phuong Mai
Hosted by HCM City Television (HTV), the second ASEAN Television Golden Melodies Festival 2011 is a cultural and artistic activity that will promote friendship and solidarity among ASEAN countries, Huynh Van Nam, HTV general director, said at a press conference on Tuesday.
The first edition of the festival was held in 2008.
Seventeen professional singers representing television stations from eight ASEAN countries – Thailand, Laos, Myanmar, Malaysia, Indonesia, the Philippines, Brunei and hosts Viet Nam, as well as two other guest singers from Japan will participate in the festival.
Pop stars Thu Minh and Kasim Hoang Vu, and winners of HTV song contest Singing Star on TV in 2008 and 2010 – Do Tung Lam and H'Zina Bya, represented Viet Nam at the event.
The singers will perform traditional folk songs from their countries on the opening night at the HTV Theatre, while the night of pop songs will be held tomorrow.
The jury, comprising composers and music producers from Viet Nam, Japan and Indonesia, as well as the audience will vote for the best male and female performers in the folk and pop song categories.
The awards ceremony for the festival will be held on Saturday.
All the performances will be broadcast live on HTV9.
During the festival, visiting participants will enjoy a tour of major HCM City attractions including the Ben Thanh Market and the Reunification Palace. The tour will help them understand more about Viet Nam's history and culture, festival organisers said.
Thai singer Plengpraphun Kingthong said the festival was a good opportunity for singers from ASEAN countries to make friends and understand each other's culture, especially that of Viet Nam.
From VietNamNews