Culture Vulture
The Ha Noi-based composer Tran Manh Hung has been presented with annual awards from the Viet Nam Musicians Association for the past two years. The 38-year-old won prestigious prizes for his poetic symphony Hao Khi Thang Long (Thang Long's Spirit) and the romantic piece The Gioi Khong Chien Tranh (A World Without War), which were honoured in the best symphony and romance categories, respectively. He talks with Culture Vulture about his works.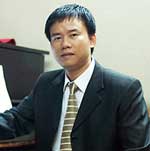 How did you feel when you won the award?
No words can describe my feelings when it was announced. I was extremely happy because if any composer wins an award it brings them happiness, and then I received a award the following year.
Besides those awards, the Viet Nam Musicians Association also presented you with other awards?
Yes, that is right. I started receiving awards from the Viet Nam Musicians Association in 2007 for the four-movement symphony Mot Nua Coi Tram (Half a Life), and the choral song Gio Long Bon Phuong (Rising Wind on All Sides). In 2008, I bagged the first prize for the composition, String Quartet No 2.
My poetic symphony Le Chi Vien (Le Chi Garden), and the romantic piece Giac Mo Mua La (Dream of Falling Leaves) won the best symphony and romance categories in 2009.
Last year, I sent three pieces to be considered for the awards. Besides two first prizes for the symphony Thang Long's Spirit and the romantic piece A World Without War, a second place prize was given to my composition Dat Me (Motherland).
The symphony Thang Long's Spirit was presented at a gala concert to celebrate the capital's millennium anniversary, while A World Without War was performed at the Buddha's birthday celebration last year.
Do you have any secrets? Why do you win so many prizes?
I would be a turkey-cock if I said my talent was responsible for the prizes.
I truly believe that all the cultural and historical values produced by humanity in general, and of Viet Nam in particular, have moulded the true, good and beautiful arts.
It can be said that all my teachers helped contribute to my success. They not taught me but were role models. I always will have deep gratitude for them.
The awards provide encouragement for composers, which helps us continuously contribute to the country's glorious musical traditions.
Some other musicians compose quite a lot of work, but are unable to present their compositions to the public. How about you?
Like assiduous bees, my colleagues and I work endlessly. However, we don't publish every piece that we write.
To vie for a Musicians Association award, composers have to submit their recorded pieces. It is not difficult or costly to record the songs, unless you are working with large symphonies or operas. That's why some talented composers, who write substantial compositions but do not have the chance to record their work, were not able to popularise their musical pieces.
Do you have any plans to release a CD containing your award-winning music?
I have a plan to release such a CD, but I don't want to talk about until it is completed. However, I'm sure that a CD with a collection of my choral songs will be aired this year.
For many Vietnamese popular singers, you are their favourite musical mixing master. You were invited to join their music projects. However, you seem prefer a to keep "hidden" life, is that true?
In order to nurture our big musical dreams and make ends meet, several other composers and I have are looking into marketing our skills. By working with such musical projects, we, the people who specialise in chamber and symphony music, have a chance to understand more and practise performing popular music.
From VietNamNews