More than 100 domestic and foreign professors, researchers and scholars gathered at an international seminar on "don ca tai tu" (amateur musical performance) in Ho Chi Minh City from January 9-11.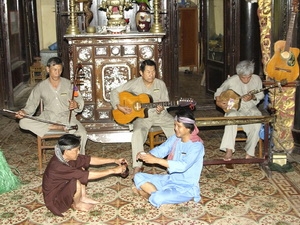 International delegates from France, Germany, Japan, the Republic of Korea, Singapore, Malaysia and the Cyrus Republic.
The seminar was part of activities to gather data on the amateur performance art for submission to the United Nations Educational, Scientific and Cultural Organisation (UNESCO) to recorgnise it as intangible cultural heritage.
Participants listened to more than 30 reports on the art's development history and its value as well as measures to preserve it.
Pham Sanh Chau, General Secretary of UNESCO Vietnam underlined important issues, such as identifying the community's role in promoting the art to international friends.
Le Van Toan, Director of the Vietnam National Music Conservatory, reported that there are nearly 2,020 amateur art troupes with a total of more than 22,640 members in the southern region.