TV show features worldwide caravan tour
HA NOI — The first episode of a television documentary series by a Vietnamese film making team featuring a round-the-world trip in a caravan will hit screens this Sunday.
Titled Caravan Vong Quanh The Gioi (Caravan Round the World Trip) and produced by Indochina Media JSC of the Indochina Group, the 30 minute shows will be screened once a week at 11am every Sunday.
The eight-person team will travel across all seven continents, with the first episode focusing on the Golden Triangle in the border area of Thailand, Laos and Myanmar.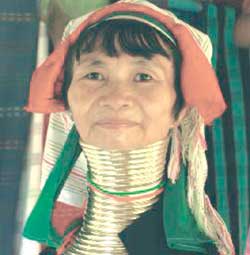 Eye opening: A Karen hill tribe woman poses for the film in the Golden Triangle.
"No one on the team has enough time to make the whole world trip," said Bui Quoc Hoan, director of the Indochina Group. "On the next stage, new members will be brought on board," he added.
"We plan to be on tour for three years and by the time the series is complete, the only member of the team to have hopefully made the whole trip will be our caravan, providing it doesn't break down," Hoan joked.
He said the team had already dealt with issues regarding Vietnamese number plates in various countries and they'd called on the help of Vietnamese and foreign friends residing in those countries to join the project.
On location: Members of the film crew at work on site. — Courtesy photos of Indochina Media JSC.
"The tour will be a chance for the film making team to send a message to young Vietnamese people about a united world and the dream of discovering new lands," Hoan said.
Journalist Do Doan Hoang, a member of the team, commented that he really had seen the world "more and more flat in a stunning change".
"The journey has already opened our eyes and matured us," he said.
Hoan said the programme organisers wanted to lure audiences out of their existing "village gates" and into a waiting world, full of fascinating experiences.
From VietNamNews