Austrian drama touts VN tourism
HA NOI — The film crew for Austrian TV series The Dream Hotel arrived in Viet Nam on Wednesday for a casting session at HCM City's BHD Star Cinema.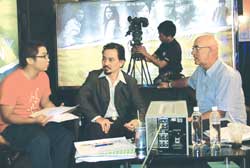 Exotic locations: Director Otto Retzer (first from right) selects Vietnamese actors for The Dream Hotel, which will be shot in Viet Nam.
The Dream Hotel is a popular TV series in Austria and Germany produced by Lisa Film, that tells the story of a group young people that hang out in five-star hotels around the world.
Each year, Lisa Film produces two new episodes, set in exotic locations such as The Seychelles, Mauritius, Bali, Mexico, Malaysia, China and South Africa. After eight years, 16 episodes of The Dream Hotel have been broadcast, and last year, viewing figures hit 173 million.
This year, Lisa Film will shoot the film in Viet Nam with the help of Vietnam Studio, and they are looking for 10 Vietnamese actors and 450 extras to take part in the film.
The crew will begin filming on May 4 in the central city of Hue, Hoi An's Old Quarter and Ha Long Bay.
Director Otto Retzer revealed that the programme would be based around the Nam Hai Hotel in Hoi An. He said the film was a wonderful chance to promote tourism in Viet Nam because it would feature some of the country's top sights as well as Vietnamese culture.
"Tourism seems to get a boost in the countries we feature in our episodes," said Retzer.
"I have known about Viet Nam, a country with many beautiful sights, for a long time," he said, "I visited the country in September last year and wrote the script based on ideas that flashed into my mind during the trip."
He said the film paints a romantic and humorous picture of Viet Nam, without touching upon any negative points.
Vietnam Studio has worked with German and Singaporean television companies before to produce the television film Tiger Team.
From VietNamNews