Ha Long Carnival to light up bay
A laser, sound and water performance lasting up to 90 minutes will be at the heart of the annual Ha Long Carnival held in the northern province of Quang Ninh from April 29 to May 5.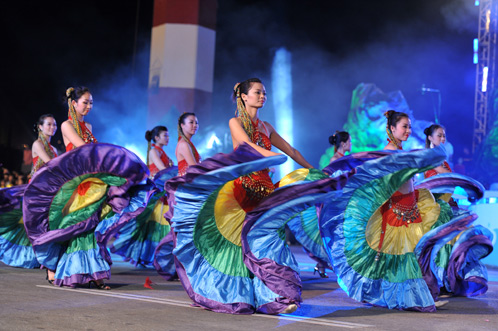 The provincial authorities have invested a record sum of more than VND138 billion ($6.57 million) in preparation for the performance, titled Mysterious Ha Long By Night, to be held on Bai Chay Beach on May 2.
The Ha Long Sparkling with Colours street festival will hit the town on May 1, along with a series of cultural events including a poetry – music show, a competition for MCs, a culinary festival, a tennis tournament, a bonsai exhibition and a cock fighting festival.
"The carnival is even more important than usual, with the vote for Ha Long as one of the New7Wonders of Nature at its peak," said Ha Quang Long, director of the Quang Ninh Culture, Sports and Tourism Department.
The local authorities have prepared facilities for tourists to vote for Ha Long during the week by telephone. Tourists can dial +2 392 201 055; +1 869 760 5990; +1 649 339 8080 and +44 758 900 1290. After hearing the introduction, tourists can press 7712 to vote for Ha Long Bay.
The bay is currently second in the polling behind South Korea's Jeju Island. In total, there are 28 finalists on the New7Wonders list.
The New Open World Corporation will end voting and announce the seven new wonders on November 11 this year.
The tourism week is expected to attract around 500,000 tourists to the bay, accounting for eight to ten per cent of the average annual visitors to the province.
From VirVN