Festival to celebrate Delta's 'Plain of Reeds'
HCM CITY — Dong Thap Province plans to organise the biggest ever festival in the Mekong Delta region to mark the 30th anniversary of the Dong Thap Muoi (Plain of Reeds) sub-region.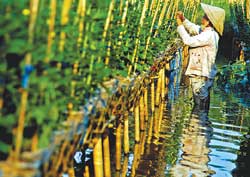 Blossoming future: A farmer works in the Sa Dec Flower Village, one of the sites for the upcoming festival to celebrate the Plain of Reeds. — VNA/VNS Photo Duy Khuong.
As many as 500 booths in the ornamental plant and trade festival will feature various products and activities. They will review the achievements of the region during the past 30 years and promote tourism in the area.
Besides showcasing beautiful trees, flowers and bonsai creations, several conferences will be held on developing the Dong Thap Muoi region and promoting investment in the Mekong Delta. Several contests will also be part of the December 1-5 festival in Cao Lanh city.
Le Minh Hoan, deputy secretary of the province's Party Committee, said the festival will honour the economic social, cultural achievements of the region that has great potential for tourism.
The province expects to attract more domestic and foreign tourists to the area, especially through eco-friendly tours. Hoan said one of the important events during the festival would be the opening ceremony of the Nguyen Sinh Sac historical site.
The site comprises the village and tomb of the late President Ho Chi Minh's father, Nguyen Sinh Sac.
According to organisers, ecological tours to the Sa Dec Flower Village and other beautiful destinations in the province will promoted during the festival.
Thirty years ago, when the Dong Thap Muoi region spanned the three provinces of Long An, Tien Giang and Dong Thap, it was a fallow marsh famous for its lotus blooms.
Agriculture was even then the region's mainstay, with the three provinces that comprise it being top exporters of rice in the country, according to local officials.
Of late, however, tourism, industry and trade are being developed in the region.
From VietNamNews