Russian cultural days in Vietnam open
The Russian cultural days opened in Hanoi on Nov.15, as part of activities to mark the 60 th anniversary of Vietnam-Russia diplomatic ties.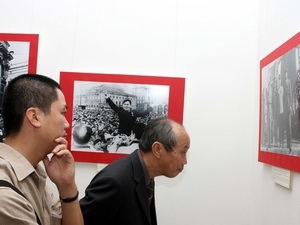 The event, the second of its kind, is held by Vietnam's Ministry of Culture, Sports and Tourism and Russia's Ministry of Culture in three big cities of Hanoi, Da Nang and Ho Chi Minh City from Nov.15-22.
Following the opening ceremony, leading Russian artists and the Russian National Academic Troupe gave a special performance.
Additionally, five outstanding movies will be screened free-of-charge at the National Cinema Centre in Hanoi, Le Do cinema in Da Nang and Thang Long cinema in Ho Chi Minh City.
The same day, a photo exhibition entitled "Moscow, the victory in May, 1945" opened at a gallery at 29 Hang Bai street, Hanoi.
On display are 60 black-and-white photos on Soviet Red Army's great victory over German fascists in May, 1945.
From VietNamPlus