Museum shows beauty of VN's sea, islands
More than 1,000 items featuring information about Viet Nam's sea and islands are on exhibition at the National Library of Viet Nam.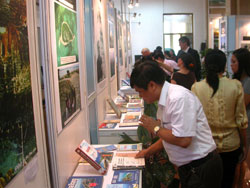 Rare glimpse: Visitors flock to the National Library of Viet Nam to view photographs and read books about the Vietnamese sea and islands.
Items on display include books, maps, photographs and documentary films. The exhibition was designed to provide information about many of the beautiful beaches along the country's coast such as Mui Nai in the southern province of Kien Giang, My Khe in the central province of Da Nang and Lang Co in the central province of Thua Thien-Hue.
Visitors are also offered a glimpse of rare and valuable photographs including one showing the then National Defence Minister Le Duc Anh taking the oath of the Viet Nam People's Army on May 7, 1988 on Truong Sa Lon Island and another taken in 1930 capturing a Vietnamese stele which affirms the sovereignty of the Hoang Sa (Paracel) archipelago.
Ballots are also available so that visitors can vote for Ha Long Bay to be recognised as one of the New Seven World Wonders of Nature.
At the opening ceremony, museum director Phan Thi Kim Dung said: "We hope that the exhibition will help readers better understand the Vietnamese sea and islands; that they will then try their best to develop Viet Nam into a nation that is strong and rich from the sea."
To commemorate the event, the national library collected books and newspapers to send to people and soldiers on the islands and remote areas. Many individuals and organisations donated books to the cause, including researcher Nguyen Duc Tien, who donated 200 copies, Kim Dong Publishing House which offered 1,000 copies.
The exhibition is being held to celebrate the country's 66th Independence Day, to honour the potential of the nation's sea and islands, as well as to support the campaign for Ha Long Bay.
The exhibit will run until September 10 at 31 Trang Thi Street, Ha Noi.
From VietNamNews