Exhibition focuses on ever-changing Indochina
HA NOI — A photo exhibition by French photographer Sebastien Laval, entitled Communities Through Time, has opened at L'Espace, the French cultural centre in Ha Noi.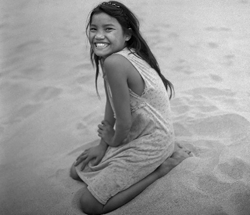 Everyday people: An image by Sebastien Laval displayed in the exhibition Communities Through Time.
The black-and-white photos portray the life and culture of people in the central province of Thua Thien-Hue, as well as Cambodia's Angkor Wat and Luang Prabang in Laos. Laval's treatment of floating houses, flickering cooking fires, the innocent smiles of kids, the austere expression on the face of an ethnic man, or a tobacco pipe between a woman's lips, captures the enigma that endures in this region.
The photos include portraits and depict both traditional customs and changes in people's lives. Images in opposition, such as traditional clothes and satellite dishes, old roofs and asphalt roads, reflect the changes in the lives of the ethnic people. The images have no titles, allowing the viewer to freely think, feel and discover the characters, to "try to meet them, talk to them, look at them and understand them," Laval said.
"The way I take photos is not to tell people that I am taking photos," Laval said. "I make no arrangement for the images."
One morning, Laval said he came to a Lao village and met a young girl carrying her brother in front of her house. By the afternoon, she had become acquainted with Laval, who was able to capture a photo of her sitting on sand with a radiant smile.
"If I hadn't come closer to her, I wouldn't have had that smile," he said. "I realised that people still speak and have a mutual understanding even if they don't use the same language."
Born in 1973, Laval discovered photography when he was given a camera by his father. He moved to Paris to work as an assistant for a photo studio in 1992 and subsequently began working as a professional in Poitiers.
Laval visited Viet Nam for the first time in 1995 and has accumulated thousands of images of people in about 20 Vietnamese ethnic groups, which he intends to publish in a book.
The current exhibition runs through February 11 at L'Espace, 24 Trang Tien Street, in Ha Noi.
From VietNamNews