ASEAN Automobile Industry Forum opens in HN
VGP – The 12th ASEAN Automobile Industry Forum was held from January 24-25 in Hà Nội with the participation of representatives from nine ASEAN member countries, ASEAN Automobile Association, ASEAN Secretariat and Japan's Ministry of Economy, Trade and Industry.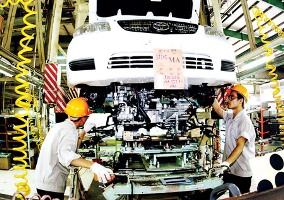 Delegates focused on the auto industry's commitments in the framework of ASEAN Free Trade Area (AFTA), the improvement of ASEAN's customs procedures, issues related to standardization and harmonization of ASEAN auto industry and the use of biological fuel to replace petrol.
According to Việt Nam's automobile industry's development plan till 2020 with vision to 2030, the auto industry will strive to increase its capacity to meet the domestic demands, then exporting to other countries in the region and the world, said Deputy Minister of Trade and Industry Lê Dương Quang.
In the short term, Việt Nam auto industry will promote auxiliary industries and give priority to cooperating with famous auto- makers, and those in the ASEAN with the aim to increase the regional cooperation.
Việt Nam also encourages using environmentally-friendly vehicles and clean fuels, said Mr. Quang.
Under the AFTA, Việt Nam will reduce the automobile's import tariffs from 80% to 0% by 2018.
(By Thùy Dung)
From Chinhphu