X marks the spot for FDI inflows
"With the above figures, Bac Ninh is one of the leading cities and provinces in Vietnam in terms of investment attraction"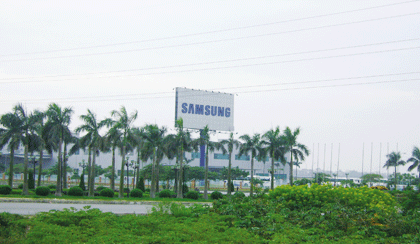 Bac Ninh is rolling out sound infrastructure to benefit electronics firms.
With a favourable geographical location, industrial parks system and an open investment attraction policy, the northern Bac Ninh province is witnessing strong investment inflows.
According to the province's Department of Planning and Investment (DPI) report, in the first three quarters of this year, the province licenced 36 new foreign direct investment (FDI) projects with a combined registered capital of $234.1 million and 83 domestic investment projects capitalised at VND10.21 trillion ($537.67 million), raising the total number of FDI and domestic projects in the province by the end of September to 263 and 450, capitalised at $2.82 billion and VND44.02 trillion ($2.31 billion), respectively.
Of the total licenced investment projects, the province's industrial parks (IPs) accounted for the majority. In the nine-month period, the IPs pulled in 26 FDI projects at the total investment capital of $225 million and 25 domestic projects valued at VND2.02 trillion ($106.64 million), sending the total numbers to 193 FDI projects capitalised at $2.36 billion and 243 domestic projects at the total investment capital of VND16.32 trillion ($859.3 billion) as of late September.
"With the above figures, Bac Ninh is one of the leading cities and provinces in Vietnam in terms of investment attraction," the DPI report said.
So far, 15 countries and territories across the world have invested in the province with presence of a large number of giants such as Samsung, Canon, Foxconn, Orion, ABB and Nippon Steel.
Vu Duc Quyet, head of Bac Ninh Industrial Zones Management Authority, said some 52 per cent of the total investment flows in the province were into electronics-telecoms industry.
With the reform policy, Bac Ninh has soon defined the importance of the foreign-invested sector to its socio-economic development industrialisation and modernisation.
Over the past 10 years, this sector has affirmed its foothold, becoming an important part of the provincial economy.
The FDI sector has increased its contributions to the province's budget revenues over the years, from VND160.3 billion ($8.43 million) in 2007 to VND230.3 billion ($12.12 million) in 2008 and VND308 billion ($16.21 million) in 2009.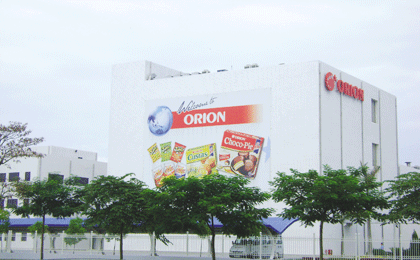 Orion is one of many big firms to greatly benefit from dropping anchor in the province.
The sector's total industrial production value also rose from VND3.57 trillion ($188.41 million) in 2007 to VND5.45 trillion ($286.87 million) in 2008 and VND7.82 trillion ($411.64 million) in 2009, accounting for 41.27 per cent of the province's total industrial value.
The sector's export value also increased to $84.82 million in 2008 from $69.89 million in 2007. In addition, the foreign-invested sector has provided a large number of jobs for local workers.
With a view to further boosting investment inflows, especially foreign investment, Bac Ninh has developed a wide range of integrated IPs, industrial and handicraft clusters. To date, 15 integrated IPs covering 7,525 hectares in the province have been approved by the prime minister, including 6,541ha for industrial parks and 984 ha for urban areas, Quyet said, adding that Bac Ninh had pulled in 13 IP infrastructure projects worth of $793 million.
"Big property groups like Vietnam Singapore Industrial Park & Township Development Joint Stock Company (VSIP), Kinh Bac City Development Corporation (KBC), Viglacera Corporation, Song Da Infrastructure Construction Joint Stock Company and Vietnam Urban and Industrial Zone Development Investment Corporation (IDICO) provide high-quality infrastructure services, meeting the requirements of potential domestic and foreign investors in the province," Quyet said.
Since late 2000, when the first IP of 134ha first-phase Tien Son was set up, Bac Ninh has housed 10 operational IPs – Tien Son, Dai Dong-Hoan Son, Que Vo, Yen Phong I, VSIP Bac Ninh, Yen Phong II, Thuan Thanh III, Que Vo II, Nam Son-Hap Linh and Hanaka.
Each IP has become an important component in attracting investment projects, creating favourable conditions to receive advanced technologies, boosting industrial growth rate, accelerating the shift of economic and labour structures and making contributions to Bac Ninh's socio-economic development. The occupancy rate per planned area in these IPs reached 47.35 per cent by the end of September, this year.
In the first nine months of this year, an additional 20 businesses became operational in local IPs across the province, raising the total number of IP enterprises to 211, which generated aggregate industrial production value of VND34.98 trillion ($1.84 billion), export earnings of $1.6 billion, import value of $1.55 billion, contributed VND988 billion ($52 million) to the province's budget and employed 51,176 labourers, including 22,531 local workers.
Currently, Bac Ninh is prioritising foreign investment attraction in industries of hi-tech and outsourcing technology which help boost exports and creating jobs, supporting industry, projects on making products and services with high competitiveness and infrastructure projects.
The province also encourages investment in tourism, healthcare, education and training, entertainment services, wholesale and retail, bio-technology projects and food processing projects.
Bac Ninh attaches special importance to investment attraction from trans-national corporations. The province will continue to focus on calling investment in districts with favourable geographical locations such as Tien Du, Tu Son, Que Vo, Yen Phong and Bac Ninh city, while prioritising investment in developing technical infrastructure of small- and medium-sized industrial clusters in less developing districts of Gia Binh, Luong Tai and Thuan Thanh to promote investment attraction in these areas.
This year, the province set the target of pulling in 40 FDI projects with a combined registered capital of $300 million, half of which will expectedly be disbursed by the end of this year, according to the DPI report.
(By Ngoc Kieu)
From VirVN