North-west to put itself on the map
Despite its big potential, Vietnam's north-western region is finding it difficult to coax more investment for the local socio-economic development. A sizable investment promotion forum on December 10 in Yen Bai province is expected to seek a remedy.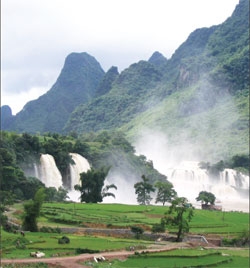 Vietnam's north-western region covers 109,245 square kilometres and has a population of nearly 11.5 million.
It is an especially important region in terms of national security and defence. The region is home to 12 provinces - Yen Bai, Lao Cai, Lai Chau, Dien Bien, Son La, Hoa Binh, Phu Tho, Ha Giang, Tuyen Quang, Bac Kan, Lang Son and Cao Bang.
The region has reaped many socio-economic achievements. Specifically, its gross domestic product (GDP) growth touches 9-11 per cent on average during 2005-2010. In 2010 alone, the percentage is over 10 per cent and per capita GDP is VND11 million ($550).
According to the North-Western Steering Committee, the region's economy remains largely dependent on agricultural and forestry production. At present, such production is being shifted to a commodity-based orientation, with economic forests and concentrated intensive farming taking shape quickly.
Many localities are calling for resources from enterprises, which cooperate with farmers in planting material forests to produce wood and paper. The region's forest area has augmented rapidly, with each province witnessing an additional 12,000-15,000 hectares annually, such as Ha Giang, Yen Bai and Tuyen Quang.
Rubber plantation projects are being expedited, with an existing area of 40,000ha. Many provinces are applying high-quality varieties of tea, vegetables and coffee. The region's herd of cows and buffaloes has developed quickly, with a growth rate of over 5 per cent per year in many localities.
The region's agro-forestry processing industry is also developing quickly in close connection with material area development. Special attention has been given to tapping the potential in producing construction materials.
Construction of big hydroelectric plants like Son La, Lai Chau and Tuyen Quang are being accelerated. There are more and more small- and medium-sized hydroelectric plants in the region. Exploitation of minerals like iron, bronze, lead, zinc and apatite is boosted.
The region's socio-economic infrastructure works have also been heeded. Investment plans for many arteries from Hanoi to Lang Son, Cao Bang, Ha Giang, Lai Chau and Dien Bien, as well as the ring roads 279, 34, 37, 4a, 4b, 4c, 4d and border roads have already been completed. Thousands of kilometres of inter-commune and inter-district roads have been upgraded. The national power grid has also been stretched to almost communes in the region, while localities' irrigation systems have been bettered.
Besides, infrastructure for services, tourism and trading sectors has also been improved. Revenues from the region's service sector augmented by 18-20 per cent per year. The poverty rate reduced by 4 per cent annually and stood at 24 per cent by late last year.
However, according to the North-Western Steering Committee, such achievements remain far below the region's big potential for socio-economic development.
The committee said the regional socio-economic development was retarded, while the region was still the poorest nationwide. Infrastructure was still poor and many people were living in difficulties.
The situation is blamed on many reasons, of which the region's difficult geographical position, weak management skills and investment capital shortages are primarily pinpointed.
Finding a way out
The committee said that the region's provinces were perfecting their investment incentive policies to create an open-hearted investment environment to lure more investment.
The provinces are now encouraging the development of agro-forestry processing industry in close connection with raw material development, via cooperation between enterprises and scientific-technical organisations with farmers, in wood, paper, tea, vegetables and fruit, meat and milk production.
They are also finding ways to mobilise more investment from all economic sectors to develop small scale industries and small- and medium-sized hydroelectric plants, boost mineral exploitation and processing, and construct factories to produce building materials, fertilisers and chemicals.
The regions also focuses into improving the quality of tourism destinations such as Dien Bien Phu, Pac Bo, Tan Trao, Hung Temple, Sapa, Thac Ba and Ba Be lakes, and Ha Giang Rock Park.
Especially, priorities will be stressed on constructing and upgrading roads, especially the Lao Cai-Yen Bai-Hanoi highway, border ring roads and corridors. The existing railway also needs to be upgraded, while effectively using the region's waterways.
Besides, the provinces are also improving the quality of their work force, via more vocational training programmes. Health care and scientific research centres are also being built.
An expected remedy
Partly contributing to the region's dream of boosting the local socio-economic development, a big regional investment promotion event will take place on December 10.
Being the most important investment promotion event for the north-western region in 2010, the north-western investment promotion forum is co-organised by the Ministry of Planning and Investment (MPI) and the North-Western Steering Committee, in conjunction with north-western provinces' authorities.
The forum is featured on the www.daututaybac.com.vn and www.investintaybac.com, which can be read in Vietnamese and English. The event, following the first successful one in 2008, will be focused on coaxing more investment into the whole region in general and each province in particular.
The forum will importantly aim to introduce potential and advantages as well as investment opportunities of localities in the region and the region as a whole. It will be forum where local and foreign enterprises can seek investment opportunities in the region in particular and throughout the country in general.
The event will be attended by over 600 delegates, leaders of ministries and agencies, investors, enterprises and representatives from international organisations in Vietnam, and international business associations from Japan, South Korea, Australia, the US and Europe.
Particularly, Deputy Prime Minister Truong Vinh Trong, who is also head of the North-Western Steering Committee, will chair this forum, which will be focused on analysing potential fields and projects that can make breakthroughs in investment attraction and socio-economic development in north-western provinces. These fields include transport-oriented infrastructure and agro-forestry product processing.
Investors and enterprises will physically discuss investment opportunities with leaders of the provinces involved.
At the forum, there will be showcase sections featuring local socio-economic development achievements, products and investment potential. This is also a good channel for information exchange between localities with investors.
Hoang Thuong Luong, chairman of Yen Bai's People's Committee, said that Vietnam's northern provinces were finding it difficult to attract investment for the local socio-economic development, due to their unfavourable geographical positions.
"This forum is of great importance as it is expected to help the region in general and each province in particular lure more investment," Luong said.
In 2008, the MPI in combination with Lao Cai province, the North-Western Steering Committee and the Central Committee for Ethnic Minorities organised an investment promotion forum to coax investment into the north-western provinces. This forum was participated by over 500 delegates and local and foreign enterprises.
At this forum, 13 investment licences were granted to investors and 10 business cooperation deals were inked for 10 projects engaging in agro-forestry-fisheries, minerals, hydroelectricity, commerce-tourism and services, with total registered capital of nearly $3 billion.
(By Thanh Tung)
From VirVN