Expansion of handicraft village model needed in VN
Việt Nam has more than 2,000 small- and medium-sized handicraft villages. Large-scaled villages just account for less than 4%.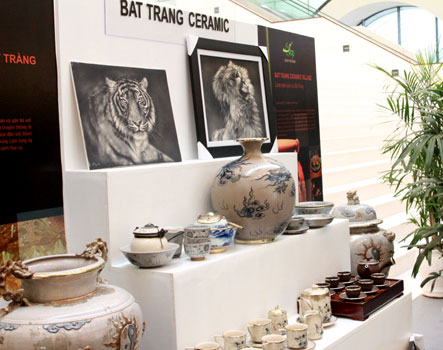 Traditional handicraft products of well-known Bát Tràng Ceramic Village, Hà Nội, Việt Nam – Photo: VGP/Kiều Liên.
Statistics show that export turnover of handicraft products to over 100 countries has increased on year-on-year basis, standing at US $273 million, US $850 million and US $900 million in 2000, 2008 and 2009 respectively.
About 43% of handicraft villages locate in the Red River Delta, while some 12.2% and 10.5% are in the Northwest Region and Mekong Delta respectively.
Major handicraft villages are involved in rattan and bamboo weaving, fabric knitting, and wood processing.
Vietnamese ceramic products from Bát Tràng and Chu Đậu, Đông Hồ woodcut printings; Nga Sơn sedge mats; Hà Đông silk have been so familiar in local and foreign markets.
The Government has given high incentives in terms of lands for growing input materials, preservation, human resource training, infrastructure development, and trade promotion to develop handicraft villages.
At his meeting with Japanese Professor Morihiko Hiramitsu, the father of Japan's Village Product (OVOP) model, Vietnamese Deputy PM Nguyễn Sinh Hùng stated that the model is critical important to Việt Nam because 70% of its population is living in rural areas where the poverty rate remains quite high.
The model aims at securing employment for rural residents and preserving local traditional cultural values, said Deputy PM Hùng, hoping that Japan would share experience with Việt Nam in the field.
In 2005, the Ministry of Agriculture and Rural Development developed the Project on OVOP for 2006–2015 .
The Project is designed to lift the growth rate of handicrafts to 15%/year and their export turnover up by 20-22% annually.
(By Hải Minh)
From Chinhphu