Retail sector reviews regulations
HCM CITY — Viet Nam needs to review its legal system for the retail network as well as the impacts of opening up its retail market to improve its management of the sector, experts say.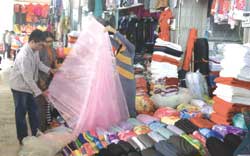 Textiles are sold at Vuon Hoa Market in the central city of Thanh Hoa. The nation is reviewing its legal system governing retailing. — VNA/VNS Photo Dinh Hue.
Prof Francois Bobrie, president of the French Association of Retail Marketing and Strategy, said State management should be a tool to ensure consistency between investment and expansion of the retailing sector on the hand, and policy goals that protect the interests of the people on the other.
Proper policies should have three elements; clear goals; well defined, fair and objective standards that aim at reaching the goals; and consistent, transparent and accessible decision-making process, he said.
Addressing a workshop on State management of the retail sector held in HCM City last Friday, Prof Robert Rogowsky of the Center for Asia Pacific Economic Co-operation from the Georgetown University in the US recommended six countries whose experiences in the retail sector Viet Nam could learn from.
China, France, Germany, South Korea, Thailand, and the US had valuable experience in three key areas of the sector, namely a broad legal framework, retail zoning and planning, and State management, Rogowsky said.
"The broad legal framework requires clear definitions of retailing and special provisions for retail distribution, formation of associations and partnership of independent retailers, references to domestic and foreign retail issues and common limitations," he said.
"Different closing hours for small and large shops in an area of over 1000sq. m. is also a tool which has been applied in countries like Germany and Thailand to ensure the stability of the market."
Rogowsky also said that clearly defined responsibilities and missions of State and related agencies, local management of retail sector, and consideration of consumer protection and civil society needs were necessary to achieve consistency in State management.
He said the six countries mentioned earlier require registration of all types of retailers and the granting of special licences and/or authorisation for restricted goods and retail shops like pharmacies, tobacco kiosks and gas stations.
"In Viet Nam, representatives of the Ministry of Industry and Trade should be members of the local commercial zoning committees and of the economic need test committees for tighter management," he said.
Officials said at the workshop that the ministry was drafting a decree on retailing activities, including regulations on scale, type, local planning as well as State management to be submitted to the Prime Minister for approval.
Pham Dinh Thuong of the ministry's Legal Affairs Department said the decree aimed at providing a legal framework as well as a level playing field for competitors while protecting the rights of consumers.
Speakers at the workshop also suggested some changes in the draft decree. "We don't understand why the decree needs such formal definitions. There is no legal definition of the 'types of retail shops' in any country, because there are no international or even national standards for such formats," Bobrie said.
He also emphasised: "Markets are never truly stable so it is hard to set measurements or benchmarks for stability [in the decree]."
Truong Dinh Tuyen, former Minister of Trade, suggested that the zoning policy applied for fixed retail outlets should be constructed based on socio-economic development plans approved by each province.
He also recommended a review of the Consumer Protection Law, stressing the need for regulations that allow exchange or return of goods because of low quality or other reasons.
The workshop was organised by MUTRAP, a multilateral trade assistance project (3rd-phase) implemented by the European Commission to help Viet Nam prepare for, carry out and follow up on WTO integration.
Participants included policy-makers, representatives from local departments of industry and trade, academics and entrepreneurs.
From VietNamNews