Guest workers from Libya recruited by domestic companies
(VOV) - More than 10,000 Vietnamese workers have returned from Libya, a war-ravaged North African country. There are many employment opportunities for those who are experienced and well-disciplined.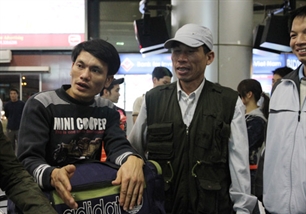 The ship carrying the last group of 1,100 Vietnamese workers from Libya is scheduled to dock at Cai Lan port, Quang Ninh province, on April 4.
70 percent of the total 10,000 workers are aged 21-30 and half of them had worked in Libya for over one year.
There are some 10 businesses in need of workers and the Department for Management of Overseas Workers has met with these companies and discussed recruitment procedures.
Minister of Labour, Invalids and Social Affairs Nguyen Thi Kim Ngan said on March 9 that her ministry will ask labour supplying companies to create favourable conditions for workers from Libya to seek employment in different areas.
Viglacera Corporation has recruited a number of guest workers from Libya.
Phan Son Tung, aged 23, from Thai Nguyen province, is one of the lucky guest workers recruited by Viglacera.
Tung said his parents had borrowed VND30 million and saved another VND10 million to send Tung to work in Libya as an electrical worker. However, after only two days in the 'promising land', he had to evacuate together with 400 other Vietnamese workers to Tunisia to avoid conflicts in Libya.
When landing at Noi Bai International Airport in Hanoi, Tung was contacted by Viglacera staff, who later accepted him on two months' probation with a monthly salary of VND2.6 million plus VND200,000 allowance for his accommodation. He also has free lunch at the company.
Once becoming an official worker for Viglacera, Tung can earn a minimum wage of VND5 million per month.
The Vice Director of Viglacera's Personnel Department, Nguyen Thi Hai Yen, said her company now can receive more than 1,000 workers such as Tung. She remarked that Viglacera is fond of guest workers from Libya because they are well-disciplined at work.
Assistance from banks
Workers like Tung also want the State to extend the time for paying off bank debts. Regarding this, Minister Kim Ngan said her ministry has proposed to the government a number of measures to support workers in paying overdue debts to the banks.
An official of the Social Policy Bank said all workers that had to return home before schedule are eligible for their delays in paying unsettled debts.
Duong Quyet Thang, Deputy Director General of the Bank, said they can also receive loans for vocational courses or additional loans for working overseas in other countries.
Given the large number of workers returning from Libya, the Bank is seeking the prime minister's approval to mobilize more capital from bonds so that it can provide more loans for the workers.
From VOVNews