Shortages force tra-fish exporters to close
HCM CITY — Farmers are not profiting from the high export and domestic price of tra fish due to scarce supplies, according to experts.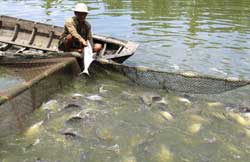 A farmer harvests tra fish in Hiep Thanh Ward in southern Hau Giang Province's Nga Bay Town. Tra fish stocks have fallen, pushing up prices. — VNA/ VNS Photo Duy Khuong.
Nguyen Huu Dung, deputy chairman of the Viet Nam Association of Seafood Exporters and Producers (VASEP), said the export price of tra fish had reached US$3 per kilo and would increase.
The purchase price of tra fish in the Cuu Long (Mekong) Delta increased from VND19,500 per kilo in early December to the current VND23,500.
According to the Viet Nam Fisheries Association, scarce supplies and the slippage in the VND/US dollar exchange rate caused the tra fish price hike.
Around 80 per cent of the area of tra fish ponds in An Giang Province has suspended operations. The area has 300ha of tra fish.
Two-thirds of export companies nationwide have stopped operations temporarily because of the scarce supplies.
Duong Ngoc Minh, deputy chairman of VASEP, estimated that 50 per cent of the tra fish demand in the market remained unfulfilled.
Next year could see an even more severe shortage since farmers have not been eager to invest in raising tra fish because of the high risk and a lack of funds, Minh added.
If there is no satisfactory change, the country's output of tra fish next year will drop to 700,000-1 million tonnes.
Because there are no contracts to purchase tra fish at a determined price, farmers do not have peace of mind.
Raising tra fish is profitable for farmers if it is bought for at least US$1.2 per kilo.
However, enterprises have discussed setting the lowest export price, not the purchase price.
Farmers have lost money since suffering losses in raising tra fish in 2008, Le Chi Binh, deputy chairman of the An Giang Fisheries Association (AFA), said.
In addition, it now costs VND1.9 billion to raise 100 tonnes of tra fish, while formerly it cost VND1.4 billion, Binh said.
He said that farmers had made profits of VND100 million from 100 tonnes of tra fish previously, and were still making that amount.
The solution is to take measures that will help the farmers feel more secure.
A Viet Nam Tra Fish Association should be established soon to act as a firm guiding hand for Vietnamese farmers, Binh said.
The association should consist of representatives of farmers, export processing enterprises, foodstuff and medicine providers, he added.
"Recently, enterprises have had the full power to determine the price of tra fish. Breeding, selling and exporting tra fish will be orderly and disciplined when the country has an effective tra fish association," Binh said.
The Ministry of Agriculture and Rural Development has asked the Government to develop methods to support fisheries to overcome difficulties, as well as encourage banks to give loans to raise tra fish.
The ministry is co-ordinating with relevant sectors to set a floor price for tra fish in January.
From VietNamNews