Banks to stop gold deposits to curtail risks
The State Bank of Vietnam (SBV) is considering a deadline to stop gold deposit and lending activities in an effort to prevent risks and insecurity for the domestic market, six months after taking measures to restrict gold trading activities.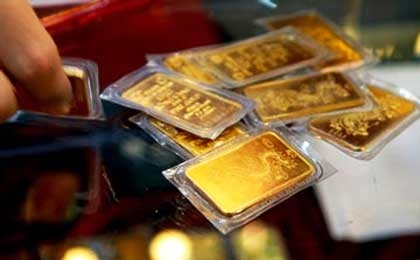 A regulation to this effect is expected to be released in May or June.

At a meeting with commercial banks last week, the SBV emphasised that its proposed ban on gold deposit and lending activities showed its resolve to fight against "goldenisation" and "dollarisation" in the economy, in order to raise the local currency's strength.

According to the SBV, gold deposit and lending activities in the past resulted in gold price unpredictability and fluctuations, leading to increased gold speculation and illegal imports, which negatively impacted the monetary and foreign exchange market and exchange rate.

Moreover, credit organisations' gold lending activities mainly focused on the non-production area, which is excluded from the State's capital priorities.

The ban aims to solve existing shortcomings, ensuring the best interests of the people and mitigating problems in monetary policy, financial and banking expert Cao Si Kiem said.

According to the expert, gold used as a mean of payment has potential risks, due to ease of speculation in the precious metal and the price can fluctuate quickly.

Commercial banks said the ban will not impact greatly on their operations, due to the low volume of gold in their reserves. The banks sharply reduced the interest rate for gold deposit rate, popularly standing at 0.3 per cent a year since late 2010.

However, according to bankers and financial experts, the SBV decision will freeze a large volume of assets kept by the people, prevent the use of them to serve the economy.

Economist Vu Dinh Anh said about 45 per cent of people's money was kept in the form of gold. He suggested issuance of bonds to mobilise gold in an attempt to increase national foreign reserves, helping the government access more capital for production and ensuring the interests of the people who still keep gold.

Other experts suggested setting up a transaction floor for physical gold in order to create a legal, transparent playing field for both the general population and investors.
From VirVN